Welcome to BreastConnect.org, a website dedicated to providing those newly diagnosed with breast cancer as well as their family members and caregivers with a one-stop shop for resources that we hope will answer questions, provide information, and help patients create the best course of action as they embark on their breast cancer journey.


MISSION
The mission of Breast Connect, Inc., is to empower those diagnosed with breast cancer to become their own best advocates in their breast cancer journey by connecting them with relevant information, resources, and friendships.
OVERVIEW
In 2014, a group of breast cancer patients and survivors in Knoxville, Tennessee, met one evening for the purpose of companionship and support. That group, nicknamed the "Happy Hour for a Cure," grew as dozens of women found comfort and support in sharing their stories with those who "had been down that road." It was during these Happy Hours that the idea of Breast Connect was born. That small group blossomed into breastconnect.org;  a website that provides a comprehensive one-stop shop experience where women can find resources and answers to help give them direction, confidence, and support during the most critical decision-making process and beyond. Educational material, financial assistance information, survivor questions to ask your docs, treatment/surgery tips, and day-to-day assistance suggestions for those with limited family support or availability are just a few features the site offers. Additionally, the private @breastconnect FB group is where most of the communication between survivors and the newly diagnosis happens.
From Happy Hour to Facebook to Website, the focus of Breast Connect remains Survivor helping Survivor. If you are visiting us as a newly diagnosed breast cancer patient, we welcome you to our sisterhood. You are not alone.
BREAST CONNECT SISTERHOOD PROGRAM
Central to our mission and an important resource on breastconnect.org is our Sisterhood Program. This program matches a newly diagnosed patient with another survivor based on the expressed needs of the newly diagnosed patient. Many of our members who experienced the assistance of talking with a survivor when first diagnosed with breast cancer found it to be empowering, educational, and reassuring. We want to ensure that anyone affected by breast cancer has access to someone who has already experienced a similar situation.
The survivors in this program want to pay it forward and help those following in their footsteps and are dedicated to being a positive influence – to listen, encourage, share their experiences, and provide information. While the women in this program are certainly not doctors and cannot provide medical advice, they can provide examples of what worked and what did not work for them – everything from courses of treatment to how to communicate the diagnosis to friends and family. They do not claim to have all of the right answers, but they are happy to share wisdom gained through their experiences. The newly diagnosed can use this knowledge to help them understand the journey that lies ahead of them, make more informed decisions, and reduce stress.
We understand some of you may not feel comfortable being matched yet. We want you to feel welcome, so feel free to read, or join our Facebook group and ask a question.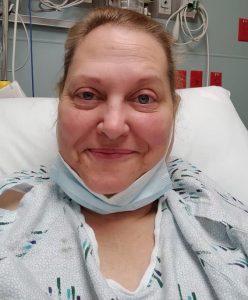 ---
"I'm so thankful for Breast Connect. The group makes me feel safe and it's a wonderful feeling knowing I'm not alone. I could not have done this otherwise. The outpouring of love from everyone is amazing!"
---
Lauri Hildebrandt / Chuluota, FL
Diagnosed February 2021